Technical project of Tomo street Guest house
2019.12.20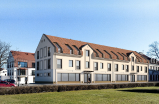 Guest house complex in Tomo Str., Klaipėda old town project proposals were published and approved in December 2019.
The project is in Tomo Str 26, 28 Klaipėda and it consists of apartments and commercial premises on the ground floor. The owner of the land plots is company UAB "BCO" which is partly owned by Baltic Equity Group.
The next step is preparing technical project and looking for the tenants for commercial premises.