Klaipėda Business Park Football Charity 2022
2022.08.30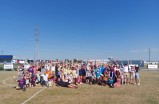 On Saturday Klaipėda Business Park hosted the 17th annual Klaipėda Business Park Charity Cup. It is a major social and family sporting event for the community of Klaipėda business park, Klaipėda free economic zone and Klaipeda region.
This year 10,000 EUR was raised and donated to the charity organisation Liberi. Liberi provides social day care services for local children and also now for Ukrainian children and their families who have taken refuge in Klaipeda. It is our pleasure to be involved in this project with Liberi and their dedicated volunteers.
Big thanks to all the companies and individuals who supported the event this year – Philip Morris Lietuva, Argus, Jakų bendruomenė, Garant, Mestilla, Espersen Lietuva, Klaipėda Free Economic Zone Management Company, Lavango Group, Orion Global PET, Eiendomskapital Norge V AS, John Afseth, ADREM LEZ, Dofita, Baltic Sea Properties & BNTP. 
Also this year is very special for us, as the tournament was won by BNTP for the first time, despite having participated every year since the tournament started in 2005. Congratulations to our team. 
We encourage all community to join the event again next year!