Baltic Sea Properties enters land lease agreement with Klaipėda FEZ
2023.10.26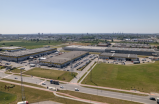 Baltic Sea Properties has recently entered into a land lease agreement with the Klaipėda Free Economic Zone (FEZ). This addition will facilitate the expansion of Klaipėda Business Park by up to 16,000 sqm in two phases over the coming years. The planned expansion will extend the 24,000 sqm integrated park complex to over 40,000 sqm.
First established in 2003, Klaipėda Business Park is the leading business park in Western Lithuania, with more than 30 companies leasing production, logistics, commercial, and office space in flexible units ranging from 50 to 8,000 sqm.
"We are happy to announce our expansion plans for Klaipėda Business Park, while also celebrating 20 years of cooperation with Klaipėda Free Economic Zone. Our strategy is to grow with our clients in a long-term partnership, and we look forward to providing additional high-quality serviced space for their business," commented James Andrew Clarke, Chairman of The Board of Baltic Sea Properties.