Baltic Sea Properties agrees terms with Rhenus Group for expansion project
2023.08.22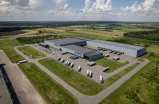 Baltic Sea Properties AS has today signed a binding agreement with its largest tenant Rhenus Logistics regarding expansion of the existing logistic terminal.
The expansion project consists of a new 17 255 sqm logistic terminal including cross docking area of approx. 4 800 sqm. The property will be certified in accordance with the sustainability rating scheme BREEAM and a photovoltaic cell facility will be installed on the roof of the expanded area. Total project cost is estimated to be around MEUR 15,0 (apx. MNOK 170). Estimated handover of the expansion is in the second or third quarter of 2025.
The terms of the agreement include a 15-year lease for both the existing and new area starting from expected handover in 2025.
Upon completion, the over 35 600-square-meter facility will become one of the Baltic region's leading logistics centers.
"Rhenus Logistics Group is a valued and very important client to Baltic Sea Properties, and this expansion is a testament to how well we work together" says Lars Christian Berger, CEO of Baltic Sea Properties. "It is an integral part of our strategy to grow with our tenants and offer expansion opportunities when their needs change. I also want to express my delight with our team who has worked very hard over a long period of time to get to this point."